Edward Povey - an intimate artform
Edward Povey is not comfortable with the job title 'painter'. For him, oil paint is a satisfactory means to an end. He grew up in London as the only child of a sadistic father, agitated, appeasing and preoccupied with his own freedom. He found a sanctuary in writing and painting, and throughout his life his studios have had elaborate soundproof doors. He avoids television, radio, newspapers and telephones and finds indescribable peace in the keeping of close-written manifestos in which he plans and designs his paintings. He thinks of them as the painted stopper in a bottle of ideas and feelings.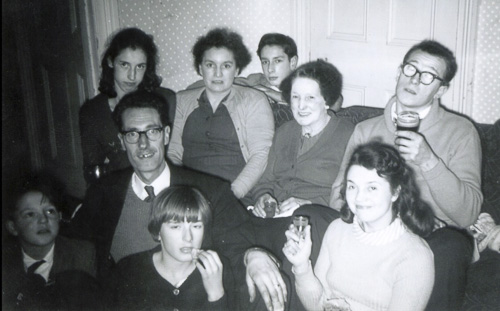 Edward Povey lower left, his parents far right at a family Christmas with his cousins
Perhaps Povey's discomfort with traditional titles emerges from the fact that his process is so energetically internal. He describes it as an entire landscape of concepts, imagery, memories, emotions and observations, replete with influences and inspirations. His detailed study of the painting tradition and its genres and laws has stretched over several decades, and like a veteran chess player he foresees the complex problems inherent in various combinations of stylistic devices. In his manifesto he unknots these problems whilst laying the foundations for his paintings. He isn't devoid of spontaneity, but he enjoys to anticipate which spontaneous gambits will fail and which will succeed.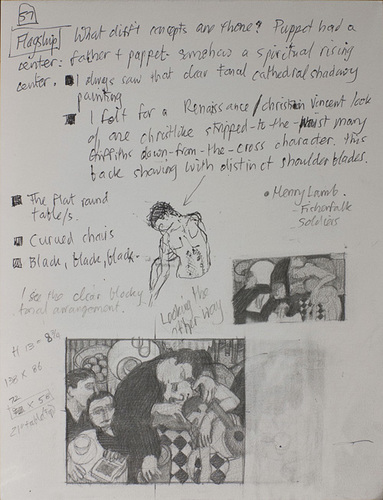 His father left him with a most valuable tendency to self-criticism, causing him to comb his works in pursuit of honesty, elegance and immediacy, never entirely sure that they can not be improved upon. He is rarely convinced about his paintings, but savors the obsessive hours of work and calculation, adjustment and reconsideration. Povey needs money to pay his bills, but would be more happy painting on a deserted island, as long as he could have his wife Tolar Schultz there with him, because they're profoundly interdependent. In fact in the mid-1980s his studio was situated in the hills of Grenada in the south Caribbean.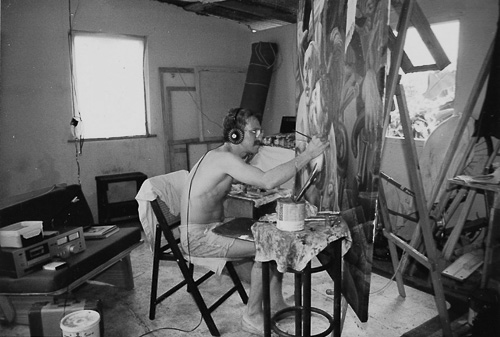 Edward Povey's current collection of paintings began in memories of an event in the 1970s in Wales, a friendship with Mehrangis Mahboubian. Moments that were emotionally arousing, both sweet, bloated with cherishing and deeply sad at the same time. Povey's first wife and he had acquired this Persian lodger: a short and beaming, pretty young woman whose brother was imprisoned in Iran. As a result she could never sleep, never sleep knowing that he was in a prison cell. Povey sat through long nights serenading her, and within months the news came that her brother had been shot by a firing squad.

In 1999 the lovely young woman died tragically herself, and like anyone will, Povey blamed himself for not doing more to save her. Those mixed feelings led to his painting Serenading The Lodger- which was all kindness and tenderness, and provided him with a doorway to the feelings of that time beside her bed and singing through the endless nights.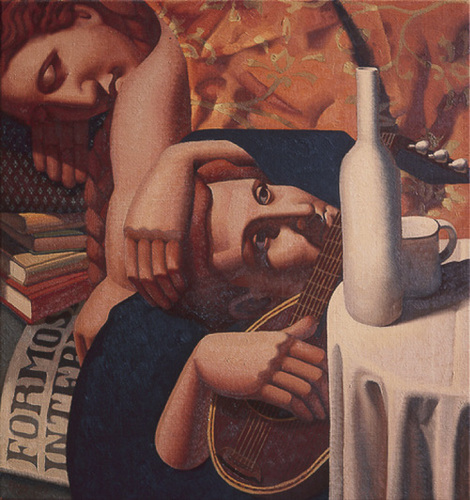 Serenading the Lodger 1999 Oil on canvas 20 X 18 inches / 50.8 X 45.72 cm
Private collection in England
During 2017 and 2018 Povey revisited the Persian Lodgerconcept with only tepid success until in July of 2018 in the National Gallery of Art in London he stumbled upon Raphael's Ansidei Madonna (1505). Raphael had used a way of painting flesh that created a look of vulnerability, and Povey could envision the hands and delicate features looking so exposed, as if they would easily bleed. Raphael formed the body exquisitely in greens somewhat like Vermeer, only to add a 'blood glaze' to bring the warmth and transparency of the nose, ears and fingers, and a ghost of internal blood around the joints of the body. Perfect, not to duplicate the appearance of his Persian Lodger, but to show her extreme tenderness. Soon Povey added a pale lemon glaze to imitate the glow of knuckles through the flesh, and blue-green-violet glazes for the veins.

But to extend the original 1999 concept he included something else that seems at odds with Raphael's Early Renaissance flesh: intentionally he tipped up the table top so that we see it via two vantage points quite impossibly, like Cezanne's Mont Sainte-Victoire paintings, which attempted to see around corners and suggest the reality of the form rather than merely offering at a two-dimensional depiction of it. Povey slams the table and crockery up against the picture plane, and the man's jacket does a similar thing by being one unaltering block of plain chocolate brown on the surface of the painting, establishing the color that we take for the darkest black in the painting. In the same way the lute is often skewed, allowing us two angles from which to see it.

These tricks are Modernist gambits, emphasizing the design of paintings, making it flat and strongly arranged in blocks of clear tonal value, but then he deliberately sets all this strength against the tender religious flesh painting, and fabric and paper from the Dutch Golden Age still lifes, as well as the realistic-looking (but entirely made-up) lute.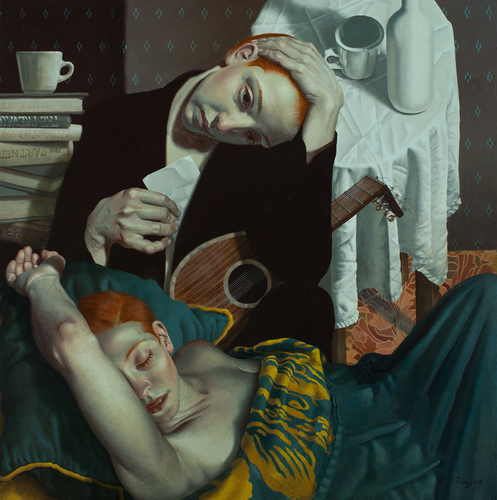 CROOKED LUTE 2018 Oil on canvas 30 X 30 inches|76.2 X 76.2 cm
Private collection in New Mexico
By late 2018 Edward was beginning to notice a limitation in the Persian Lodger paintings. He needed more breadth of concept of the works, and more movement and chaos in their surface. He noticed that the under-drawings for the painting, worked in pencil on a putty-colored oil ground, were nicely atmospheric in their own right: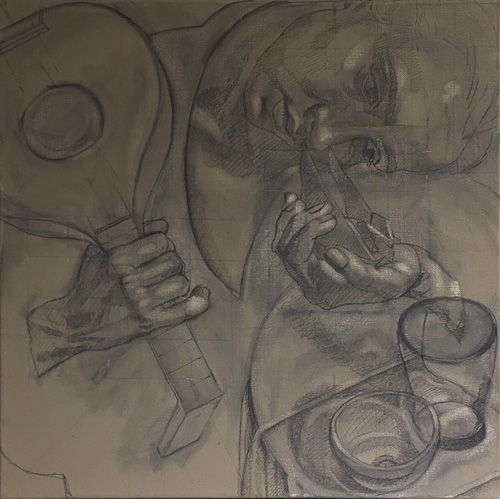 Under-drawing for A BIRD IN THE HAND 2018 Oil on canvas
16 X 16 inches / 40.64 X 40.64 cm
For some months Povey shaped and molded the idea of combining passages of drawing and painting. This would produce some interestingly symbolic results, suggesting two parallel planes or states, two simultaneous worlds divided only by time or psychology. He sees:

"One liminal somnambulant figure, a workman lost in has task but devoid of tools. A sleeper through life, surrounded by unrelated figures ignoring him, all based upon actual hurricane disaster figures bending to pick up belongings, on their hands and knees searching, people looking forsaken and dazed, all done in worked drawings in contrast to the central figure which is painted in Raphael's way. A marvelous metaphor for distracted human life, for Meghrangis Mahboubian long ago in Wales, for all of us."
Michael Walters - 2019
________________________________________________________